Situation: You need a few more features in your PM software.
We recently spoke with Cynthia West, VP at ProjectInsight about one of the most common migration patterns we're seeing at the moment - a move from super-simple "to-do list" software to more capable packages. If you're a Basecamp user, there's a pretty big chance you'll eventually find your needs outgrowing the software bit by bit. If you are in that situation now, read on and see if your experience matches up with what's typical in the industry.
Q. Basecamp is a terrific, inexpensive starting point for many. However, at some point most organizations grow out of it. Can you talk a bit about the triggers that prompt users to start looking at more capable products?
Yes. We think of the market for portfolio and project management solutions as having three basic tiers: the low end tools, mid-market solutions and high end systems. Basecamp is a great low end tool that offers collaboration and task management in a web-based application. High end systems are those designed for very mature project teams. They are more involved in terms of implementation timeline, more expensive and, in general, designed for more 'top-down' organizational cultures. Microsoft Project Server is a good example of such a system. Mid-market project solutions are more robust than the low end, but not as overwhelming as the high end systems. Project Insight is one example of project software that is robust enough for experienced project managers, yet easy for team members to adopt.
We talk to a lot of people that have started to manage tasks and collaborate in Basecamp. They like the alerts and the ability to see the tasks they are to work on. However, as you say, many project teams outgrow this tool. The initial trigger points that prompt teams to look at mid-market portfolio and project management solutions include the need for:
-Intelligent scheduling
-Gantt charts
What do I mean by intelligent scheduling? This is the need for something more than a simple task manager. As teams hire more professional project managers, they find they need the ability to link tasks together using dependencies. While some low end tools have the notion, not even all mid-market solutions have the MSP-like dependencies and constraints that more experienced project managers are familiar with.
In many cases, the more experienced project manager has utilized MS Project desktop and wants task dependencies, constraints and splits. At the same time, the organizations we help talk about having project managers of mixed experience levels, so they also want the newer project managers to be able to create projects from templates.
Gantt charts, of course, provide a visual view of one's project and task flow. As projects get more complex, there's nothing like being able to see the tasks on the critical path. Basecamp and other low end tools do not concern themselves with something as esoteric as a critical path or a baseline.
Q. There are always the problems you see and opportunities that you don't. Can you talk a bit about capabilities that most of these organizations could use that they are not looking for right away? What sort of quantifiable impact could these functions have?
Sure. When teams finally get their hands on a product that performs intelligent scheduling and they have set up some project templates, they often feel that sense of relief. So, what's next? At this point, they can benefit from resource allocation views and portfolio reports. If you are only looking at a bunch of tasks that are unrelated, it makes it impossible to shift schedules easily. It also makes it challenging to truly understand what people are working on and when.
Demand management, capacity planning, resource allocation…no matter what you call it, as project teams become more successful, they need a way to see what everyone is working on and when. Because growing organizations are successful, they often have the business challenge of not knowing if and when they can deliver a project on time. Proper resource views in mid-market resource management solutions are needed when organizations hit these levels of success.
As for the quantifiable measurements of the benefits of resource balancing and proper allocation, that is probably the 'holy grail' most PPM vendors are looking for. If it were easy to find an ROI measurement that every organization could utilize, then our lives would be much, much simpler. As far as I know, no vendor can offer up a simple ROI calculator that is applicable to most organizations.
That said, I can offer you some anecdotes from customers that lead us toward impacts. For example, one organization had a team of high powered software developers that he was losing. They were leaving for 'greener pastures' because the organization was constantly working late on their client deliverables. They would have a 600 pound gorilla customer call in and then everyone would work a fire drill. All of this due to not being able to see the planned work and allocate it properly.
Once they implemented Project Insight, they began to plan every team members' work two weeks ahead. Once that was mastered, they began looking out a quarter and forecasting. The customer found that his attrition rate of his specialized resources was lower. Why? Because people could plan their lives. They went from working 80 hours per week to 40-50 hours per week. The employees were happier and remained with the company.
Last, but certainly not least, executives want a simple way to oversee all the projects in their portfolio. Low end tools do not always concern themselves with the needs of project managers or executives. Basecamp and others are more focused on team member needs, sacrificing other levels of the team.
Now this functional set is probably easier to quantify. We often hear of project managers spending a certain number of hours aggregating information for executive reports, and then someone else spend another set of hours formatting these reports. That is more easily quantified and can often, in itself, bring in the ROI for a mid-market solution.
Q. Are there staffing considerations when making this sort of (upgrade from Basecamp) move? Should you not take it on unless you have a specific set of skills and competencies in house?
Yes, that's probably true. If an organization does not have anyone that understands task dependencies, or is willing to learn about the power of intelligent scheduling, then it is probably not wise to upgrade as of yet. It seems that Basecamp appeals to organizations that are small and work with a lot of sub-contractors or freelancers, for example, tiny ad agencies that extend their workforce with subs. In these cases, it is probably overkill for them to worry about anything in the mid-market.
Q. At the other end of the spectrum from Basecamp, there are very high-end complex tools to manage project portfolios. These are often six figure investments. At what point do you need to start looking at these?
There are many organizations that are ready for a high end system. They have certain characteristics to be sure. For example, I attended a PMI chapter even with a Microsoft Project Server consultant as the guest speaker. He was firm and clear when he said, "Don't even try to implement this unless your organization has a CMM ranking of 3.5 or better." I would say that is probably good advice for any organization. Do not embark upon a high end system until you are mature enough to benefit from that system.
In May, at the Gartner conference, it was said that a solution like Clarity takes at least six months to configure, so you need to be at the stage where your team can dedicate the resources to analyze the business processes and spend that time configuring the system.
A couple of good examples of companies that use high end systems are Proctor & Gamble and Boeing. P&G has literally 1000s of products and tens of thousands of opportunities for improving these products, or launching new products. They have an entire department that analyzes the risk of each potential program and project. These opportunities are mapped onto a bubble chart and the like. The team has the resources to review the project/idea intake process, and analyze, and quantify well in advance. Many of our customers do not have the luxury of an entire risk management department.
Thank goodness Boeing and other airline manufacturers have mature processes, as our lives depend on it. The type of business requires stringent adherence to standards and processes in order to develop and manufacture their products.
Q. Project Insight has an established migration path from Basecamp. Can you talk a bit about the data that is migrated over, how it's used, and where the gaps are?
Yes, as we upgrade lots of teams from Basecamp, we've developed a data migration for these customers so they can have their historical information available to them. We map the following fields:
The gaps are the features that Basecamp does not offer like dependencies. So, if the project is in progress, and migrated into Project Insight, then the project manager needs to relate those tasks or just adjust each task manually. We did not migrate files, but one may simply use multiple file upload to pull the files into Project Insight. Everything else is good to go.
Situation: You think "the cloud" could be a solution for you, but you're still not sure...
Recently, we spoke with Scott Chapman, the President and CEO of Project Hosts, the leading provider of online Project Server, SharePoint and CRM solutions, with Microsoft competencies in Project and Portfolio Management and Hosting. Scott has been a market leader in cloud-based Microsoft applications since 1999 - so he really understands the ins and outs of "PM in the cloud". With the following interview questions, we wanted to give you a feel for what you should be considering when you are thinking about moving to the cloud. If you have more questions and happen to be in Phoenix in two weeks - Scott will also be speaking at the MS Project Conference 2012. His session is entitled, Going Online with PPM - What You Need to Know.
Q. When you talk about faster and less costly Project Server Deployments online, what's really driving the speed of implementation and cost savings? What are you giving up in return for those advantages when you compare it to a more traditional implementation?
A. Hosted deployments lead to faster implementations by avoiding three main roadblocks commonly encountered in onsite deployments: i) procurement delays in acquiring new hardware (or software), ii) delays to approve software for deployment (often requiring IT to have the training to support it), and iii) security delays in granting consultants the access they need to configure a solution. By avoiding these delays, online environments become operational more quickly, saving money through more effective and efficient project and portfolio management. Online environments also save money by allowing customers to only pay for what they need – starting small and scaling as needed.
The main things that customers give up in an online PPM environment are i) data being inside their corporate firewall, ii) integration to their onsite Exchange server, and iii) automatic corporate authentication. Some organizations will not consider online services in the first place, simple because their data would reside outside their firewall. But many organizations are OK with hosted project management information as long as the hosting provider has the correct security certifications (e.g. SAS70, ISO 27001, PCI). Although email alerts from Project Server and SharePoint work from online services, the Exchange integration that allows a user to update Project Server tasks from within Outlook does not work when connecting online PPM to onsite Exchange. Although it is possible to integrate online authentication with a customer's corporate Active Directory, it does involve some customer IT work and is not automatic like in an onsite deployment.
Q. When do you have issues with security in the cloud? How do you ensure your PPM data in the cloud is secure?
A. Security is (and should be) the number one concern of most cloud customers. Many customers have their own checklists, assessments, or surveys that ask all the questions they need answered to ensure the safety of their data. Others use standard checklists like those for ISO 27001 or FISMA (Federal IT standards). It is important to make sure that a cloud service provider has had their security audited by a third party and to be able to see the results. Some customers will even perform their own audits, which may include penetration testing (ethical hacking) and other verification techniques.
Q. What do you give up in terms of customization with a cloud based solution vs one onsite? Can you give some examples?
A. If the cloud based solution is restricted to shared servers, then there are typically quite a few restrictions on customizations: One typically cannot add 3rd-party applications or custom webparts, and it may not even be possible to develop custom workflow or certain types of BI reports. If the cloud based solution involves dedicated servers, then the above-mentioned customizations are possible, but there may still be limitations with integrations to onsite resources where the integration requires everything to be in the same domain (e.g. Exchange integration to Project Server).
Q. What are the licensing challenges that you need to be aware of as you integrate your PPM cloud implementation with all of the other MS applications that are present in most organizations?
A. If a customer provides their own licenses for a cloud solution (to reduce hosting fees), the customer will need to remember to account for those licenses along with their onsite licenses when they do periodic licensing "true-ups" with Microsoft.
Situation: You need a fresh perspective on Project Management in general.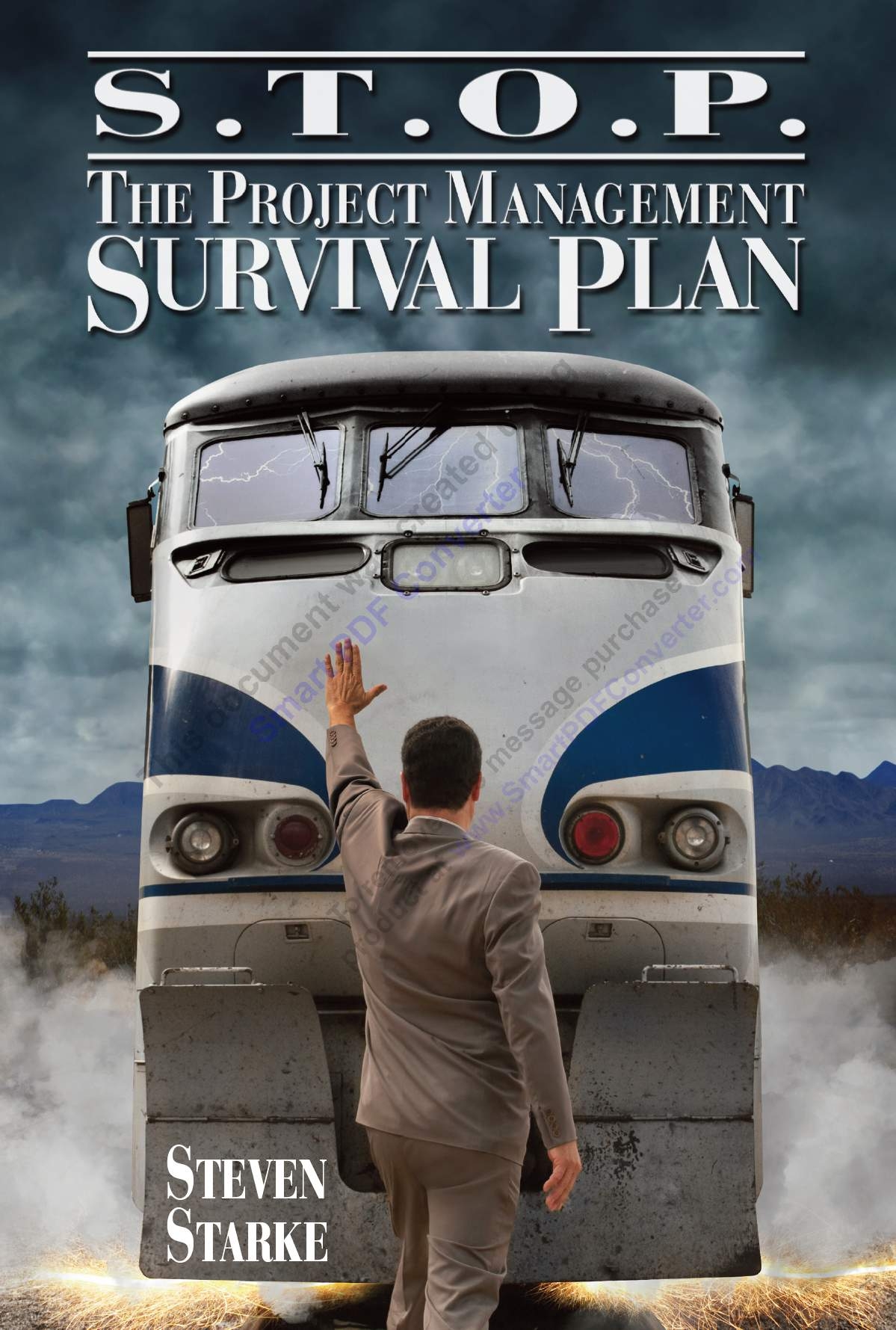 Steve Starke, VP of Program Management at Thomson Reuters, has written a new PM book entitled, S.T.O.P. The Project Management Survival Plan which outlines a new framework for managing projects based on survival principles used by many of our armed forces divisions in the United States. The book offers an alternative to the classic triple constraint triangle. Instead he suggests that we focus on managing value, team performance, and communication. We asked him for a few specifics in the interview below…
Dave: How did you come up with the idea of applying survival principles to project management? Surviving is about achieving a minimum threshold –presumably in a difficult environment. Are you taking a project view that says, "achieve the stated goal and no more?" (I.e. - stay entirely within scope)
Steve: A key to surviving many of life's situations involves mental toughness. Essentially, knowing how to think through a problem and develop action plans. If you think about your project as a survival mission in which it's your responsibility to save and lead members of your team to safety, you may change your approach to managing your projects. You may start to understand your team members better: their strengths, weaknesses, and the environment in which they perform best. You may also have a new sense of urgency considering what's on the line. Many times on survival missions you only have one shot to get it right. You could say the same thing about planning and managing a project. If you don't get it right up front, you may find yourself and the team in front of the CEO explaining the failure, missing customer expectations, and hurting your career. With the role of the project manager, there's a lot at stake and no room to take chances. Corporations are counting on project managers more than ever.
Dave, the view I am taking is that project managers, especially those involved with developing new and innovative products, must be mentally tough! Project Managers must mentally train themselves to think through alternatives before tackling any of them. As critical situations develop during a project, the project manager needs to physically stop and think to consider all their options. Next, they need to observe their environment and consult with their team members to determine the best plan of action - thinking through how the plan is going to be accomplished.
A project manager must also know when to recommend stopping the project. Stopping isn't something a lot of organizations do well. In a recent study, the Accept Corporation and the Association for International Product Marketing and Management (AIPMM) found that more than 60 percent of executives say they struggle making kill/ go decisions. There is a tendency to continue projects and activities even when most people involved realize it's not an optimal use of their time.
The S.T.O.P. principles were designed to ensure that critical thinking occurs in high pressure situations (sound familiar?). I have taken those same principles and constructed a framework for project management. Giving the project manager guidance and direction on what that minimum threshold should be for being successful if their project is viable – and if it's not viable, then what it takes to stop it!
Dave: When we thing of managing scope, schedule, and cost we are really balancing those things against on another in many ways. In your version of the triangle, do you see project managers needing to balance value, team performance, and communication? How does that work?
Steve: If project management is to survive as a profession, then we as project managers need to realize that our job is more than just managing scope, schedule, and cost – it's about delivering value. The iron triangle still exists; don't get me wrong. But to truly be effective as a project manager I believe a new triangle must emerge. A triangle based on managing value, team performance, and communication. I developed equations in the book to help identify and quantify the variables where more focus and management need to be applied on our projects.
Let me give an example on how this works in regards to determining and managing project value:
You're raised as a project manager with a visual implanted in your head of a triangle that flexes and constrains as you move through your project. You force your sponsors to make decisions and tradeoffs against the three (scope, schedule, and cost), but based on what? The answer should be value. When creating, developing, and delivering a product to the market, you seek to maximize its value. You want to maximize the customer benefit and experience while maximizing the return on investment. When you adjust your perspective around the triangle like this, you realize it's more of an equation based on deriving value. I call this the project management value equation. It's designed to give context to "scope, schedule, and cost," ensuring that you're weighing all that you do against the overall value of the project and keeping your sponsor and team focused on the prize. Said another way, it's an equation meant to quantify and assess the value of a project and identify — if value has been decreased — whether the project should be stopped. The equation is the following:
Value = Scope ÷ (Schedule + Cost)
By understanding this concept, you bring more depth and meaning to what you really need your sponsors to trade off against. By assigning a value to each of your success criterion, you in essence are quantifying the value of the project. Increases to schedule and cost will decrease the value of the project if more scope is not being delivered to offset it. Ensure that your scale for scope, schedule, and cost are the same. Assigning either a percentage value or using a 1–10 scale can work if each variable is quantified consistently. The idea is that, at the start of the project, as you determine its overall value, it should equal 100 percent. As tradeoffs are made between each of the three variables, the project value will change. Together with your sponsor, determine what the threshold value is for stopping your project.
Dave: Can you give us your top 3 tips for understanding and creating value on projects? Which tools do you apply and why are they important?
Steve: You bet, they are the following:
Stop before you rush into any project. Take the time to understand the project's success criteria.

Think about each success criterion and ensure that it's understandable, measurable, and achievable by the project team, stakeholders, and sponsor. Understand who is going to benefit from what aspects of the project and how they're going to measure them. Tools exist in the book to help create and assess completion of project success criteria.

Create a project tradeoff matrix. The project tradeoff matrix documents the options available when critical tradeoffs must be made between scope, schedule, and cost when weighed against overall value. This matrix captures stakeholder guidance as you control the project through execution. It will serve as your compass, directing you as you balance and manage your project.
Dave: Can you give us your top 3 tips for managing team performance on projects? Which tools do you apply and why are they important?
Steve:
Creative disruption is a method to stop or disrupt the monotony of the everyday and introduce small, incremental changes that keep the team challenged and fresh. Just because something worked for a team on a prior project doesn't mean it will work on the next project. Keep the team on their toes and in a mode of constant, critical thinking. Your project results and team dynamics will dramatically improve as this technique prevents stagnation and complacency.

Observe the differences in backgrounds, perspectives, and functional priorities that exist amongst your team. Managing team construction and dynamics are a part of your job. They're counting on you to guide them through the project by reducing the risk of interpersonal conflict. Social bonding, Team identification, Team orientation, and formal Planning are the ingredients to team integration and performance.

Plan to capitalize on team dynamics and integration by understanding the three C's of your product development lifecycle (conceive, construct, and commercialize) and knowing when to increase communication based on time and team function.
Dave: Can you give us your top 3 tips for ensuring effective communication on projects? Which tools do you apply and why are they important?
Steve:
Plan your project. A project schedule isn't a project plan! A project schedule is a tool used to manage a plan. Create an integrated project plan designed around market/product needs and project outcomes. Do this and you'll turn your plan from one that is inwardly focused to one that ultimately meets customer needs and ensures that all the project work yields the outcomes your organization expects.

To truly do that full robust planning, you need to establish a responsibility assignment matrix, commonly called a RACI (Responsible, Accountable, Consulted, and Informed) matrix before you start to build your project schedules. The RACI matrix describes the roles and responsibilities of various teams or people involved in developing and delivering a product. It should also include your stakeholders and any extended team members needed to deliver your project. Like the project tradeoff matrix, the RACI matrix can be used as a stop sign for your project. If you don't have the right accountability and responsibility mix within your project — Stop! Talk with your sponsor; show them the results, and work with them to get the right team in place. The RACI matrix can also be used to help explain to your executive sponsor and senior leadership just how complex your project is. I'm not saying it's the silver bullet in getting that message across, but it can help.

Develop your communication plan to reduce the risks and decide how to best implement the plan safely and with transparency. Ensure proper feedback mechanisms are put in place so you can monitor how the communication was received and whether you should alter the communication in the future.
Situation: It's unclear which decisions you can take and which ones must be escalated.
Often we begin with a general understanding that the PM can approve expenses within budget and at times there is an approval threshold, but not much more is said about decision-making. Action-oriented PMs often take a "decide first", ask for forgiveness later approach. This can work well in the moment, but strain relationships long-term.
At their best, a good delegation document will:
Allow for the best decisions to be made
Make management processes more efficient
Contain the level of risk associated with each decision
Our version helps you record decision-making authority for the following types of decisions:
Matrixed Staff
Project-specific staff
Contractors
Vendors
Budgeted Expenses
Unbudgeted Expenses
Scope Changes
Schedule Changes
Quality Changes
We've seen various types of delegation documents and developed our version of a template this past week (a premium template, available to all gantthead members through 1/15/2012).
If you think you might find it useful, take a look at the template and tell us what you think.
Situation: Ya need something casual to wear that makes a PM statement.
I just noticed on facebook that PMI is promoting a new set of T's. Here's the announcement and link -
Show off your project management pride! Reward your favorite project team members with new T-shirts from PMI!

"Project Management" t-shirt: A colorful globe design sets off the words "Project Management" in several different languages.

'Project Managers Do It With Standards" t-shirt: Give your fellow project managers a good chuckle when you wear this trendy t-shirt, which features a silhouette holding A Guide to the Project Management Body of Knowledge (PMBOK® Guide). Select from a male or a female silhouette.
'Rome Wasn't Built in a Day. They Should've Hired a PMP" t-shirt: For team members with a PMP® credential.
Of course, I tend to favor our gantthead T's - but I think it's great that you now have more PM fashion options.
If you're interested, the PMI shirts can be found here.
Our t-shirts are of course, in the gantthead shop. You also get a free one if you sign up for a Premium Plus Membership.
Here's a few of them...