In this podcast interview which was recorded live at Agile 2018, Johanna Rothman and Mark Kilby offer some tips on how to improve communication in distributed teams.
Many of the tips were discovered while writing their new book "From Chaos to Successful Distributed Agile Teams" which they've co-written AS A DISTRIBUTED TEAM.
If you'd like to pick up the book you can find on LeanPub using the link below
https://leanpub.com/geographicallydistributedagileteams
If you'd like to get in touch with Johanna:
If you'd like to get in touch with Mark:
A few weeks ago Don Kim put up a blog post challenging the value of certifications. I reached out to Don in hopes of doing an interview about it and found out he's also written a new book "I think Therefore I Plan". In this interview we discuss the pros and cons of different certifications, taking an artisan approach to managing projects as well as Don's new book.
You can find Don's book here: http://amzn.to/2n7VEHu
You can find Don's blog post about certifications here: http://bit.ly/2okDUZA
Show Notes:
00:07 Interview Start
00:30 What is a Human APEE
03:38 What is an Artisan approach to Project Management
05:15 Don's Philosophy of Project Management
07:22 Trying to slow down and do less
08:21 Don explains his way of approaching project work and the reason for the book
10:56 How has the traditional vs. Agile debate changed over the past few years
12:53 Seeing the value in every project you work on - regardless of how you got it
16:15 The downside of certifications
17:29 The positive aspects of certifications
18:03 There is more to project management training than just PMP certification
19:48 Making the case for the value certifications can provide and how it can be misunderstood
23:22 Does it make sense for people to want to have a way of gauging their professional achievement?
23:55 What Don expected from PMP certification and how he went deep with the Kerzner to get the most learning out of it (instead of just passing the test)
26:41 Is it the certification that is an issue, or the way people interpret it as an end point rather than a beginning
27:50 An overview of the approach Don's book takes towards the art of Project Management
30:56 Where you can find Don's book and how you can reach him with follow up questions
31:54 Podcast Ends
You can reach Don Kim on LinkedIn: https://www.linkedin.com/in/donkim/
Feedback/Comments: drunkenpm@gmail.com
Writing the introduction to a podcast interview with Dr. Alistair Cockburn is not a simple thing. He is the co-author of the Agile Manifesto and the author of numerous books on Agile, Use Cases and Object Oriented Programming. There is also his work with Crystal and now with the Heart of Agile. He's contributed a significant body of material around the topic of how we work. While this interview touches on most of the above, the primary focus of the interview is around a simple question with a complex answer: How can you design a lifestyle that is based on continually examining and enhancing the quality of your life.
The interview is a long one, but is filled with volumes of advice and wisdom on how to build a professional life that supports the level of quality you want to achieve in your personal life. The information will be especially valuable for anyone working on consulting. For those who are pressed for time, I've created detailed show notes below so you can jump to a specific portion if you need to and you can find them here: (because they exceed the text limit for a Soundcloud podcast).
If you would like to learn more about Alistair Cockburn, check out http://alistair.cockburn.us
If you'd like to follow Alistair on Twitter, you can find him at https://twitter.com/TotherAlistair
If you'd like to learn more about Heart of Agile, check out http://heartofagile.com
If you'd like to check out the Facebook Live conversation between Alistair and Nic Sementa, try http://bit.ly/2cESM57
Show Notes
00:08 Interview Starts
01:10 Topic Introduction - Designing your life with intention to create quality of life
02:27 Overview of the trajectory of Alistair's professional life and consulting background
02:58 Alistair's advice for maintaining quality of life as a consultant
03:44 The jobs you can't take if you want to maintain quality of life (especially if your focus is family)
05:11 How do you become an old married consultant? If consulting is so great, why do people quit?
05:41 Rule #1 Limiting your travel / Manage your budget
06:40 Resigning from the full time travel gig and making sure they can't make an example of you
09:10 The smart way to look for a new job
09:44 How much you need to have saved to look for a new consulting gig
10:56 Why you need to pace yourself during the job search
11:22 Getting published and planning to be in the rejection business
13:28 Coping with the ego blow of getting your soul rejected
14:24 Applying this advice to getting new clients
15:14 Landing the first consulting gig teaching about Object Oriented Design
16:08 How do you survive the first days as a consultant?
16:53 Driving for lifestyle
17:43 Consciously making choices for the lifestyle you want to achieve
18:22 Asking yourself "Does this enhance the quality of my life or not?" and applying it to all aspects of your life
19:27 Celebrating the things you do choose to do
19:50 The infinite potential workload vs. the finite number of plates you can juggle
21:22 The number of things you can't get around to is infinite (no matter how much you do)
22:31 Do less to get more joy/quality/everything
22:45 Bookshelves, kids and divorce
23:10 18 years of being a married consultant
23:55 Do five things with job instead of 15 things with less joy - and learning to be conscious of your choices.
24:15 Going to the buffet
25:25 "The amount of food I did not touch was infinite"
25:48 Practicing "I would have everything, but if I just have this, I can have the best of the best
26:00 Budgets - Figuring out how much you need to put food on the table, how much for gravy and how much you need to declare greed and quit for the rest of the year.
28:15 Setting an upper limit for how much you want to make and staging work with financial goals
28:45 Knowing when "anything else in my life is more important than the next job"
29:25 What you need to live - take your base number, multiply by 2.5 and find your greed limit
30:10 When you hit the greed limit, do you actually have to stop (even if you don't want to)?
31:05 Not operating from fear - if you are getting on the plane… why?
32:00 Teaching yourself to say no, limiting travel and limiting conferences
32:40 When they call, and they want ONLY you, and they offer gobs of money…
34:05 Saying "Yes" when you should say "No"
34:35 Establishing a writing practice
35:10 A question about maintaining routine while traveling
36:00 Alistair's life/phase changes
36:50 More advice on how to maintain a healthy life/marriage when you are a traveling consultant - set up a rhythm
38:40 Self-care while traveling (Alistair and Nic Sementa on FB live)
39:10 Life in the hotel
39:50 Air BnB so you can cook and maintain a healthy diet while traveling
41:17 Recap on maintaining diet while traveling
41:40 Alistair's phase change - moving to France to practice his French
42:45 A brand new life in Brisbane playing volleyball for Christmas
44:14 In case you are thinking "My life can't do that…"
44:57 How to get a job working in Zurich at IBM Research… but taking a chance and applying
47:31 Writing the Agile Manifesto in Snowbird, why it worked and why it was different than many other attempts to try and write something that would change the world
48:43 What made the running of the workshop in Snowbird so good? Generous Listening
49:10 Seventeen Alpha-types who all chose to be quiet and listen
50:18 "I'm Steve Mellor, I'm a spy"
52:46 Recap of Alistair's tips in the interview so far
50% travel cap
1/2 week travel every week
Set max and min income target
When you hit max target, anything is more important than the next gig
Write some books to fill up the home time
2 conferences a year
Drip feed for the clients
The only thing that makes things impossible is not being willing to take a chance
Generous listening
Constantly pursue areas of interest that improve quality of life
55:16 living below the poverty line and being okay with your quality of life
55:43 The three income levels according to Alistair Cockburn and understanding how much you need to feel survive or feel wealthy
59:46 Radical Simplification
60:38 The Heart of Agile, Shu Ha Ri and Kokoro
62:20 Living an improvised lifestyle
62:55 Agile has become over decorated
63:05 Scrum has become Shu level and it was designed at Ri level
63:32 The Heart of Agile - Collaborate, Deliver, Reflect and Improve
64:40 Kokoro - Heart of Essence
65:20 The top of performance is Ri, transitioning to teaching is Kokoro or Radical Simplification
66:25 The new lifestyle - looking for radical simplification in everything
67:08 Maximizing your freedom through simplification
71:34 Do you need someone at Ri or Kokoro to be guided towards simplification?
72:30 Can you transform to Heart of Agile at the organizational level?
73:20 Questioning collaboration across the organization to set a baseline you can use for transformation to Heart of Agile
74:44 If you move the needle on the collaboration, everything improves
75:31 Going back to the basics of being able to deliver incrementally
76:28 You don't need a specialist, just people who are open
76:42 The next Heart of Agile Conference - Pittsburgh in April 2017
77:47 Wrapping up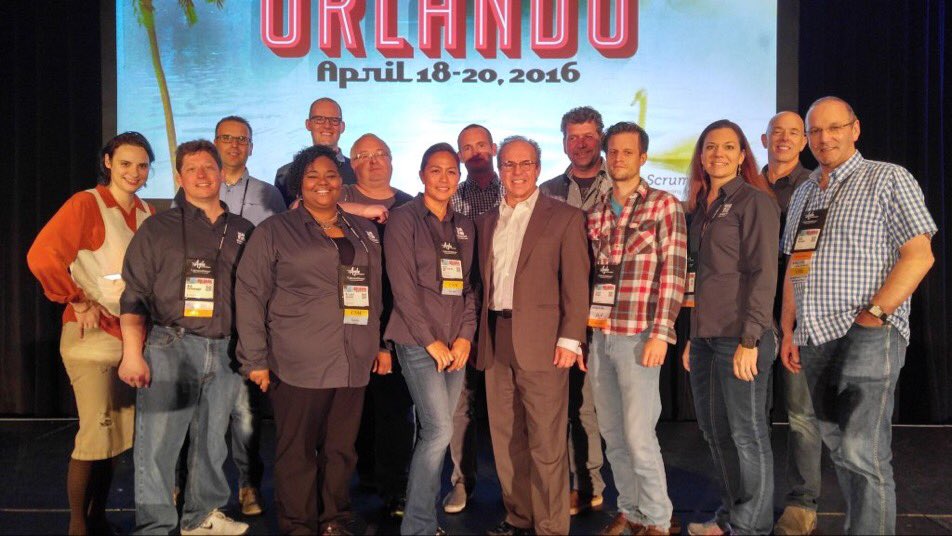 Click here to go straight to the interview
At the 2016 Scrum Gathering, the Scrum Alliance sponsored a meeting that brought together leaders in education from all over the world who focus on helping students and schools to adopt a more Agile way of working. The Agile Education Compass is the output of that meeting. In this podcast, you'll meet the folks who were involved, learn about the inspiring work they've been doing and you'll get to hear them walk through the Agile Education Compass.
Click here to go straight to the interview
Show Notes from the Interview
Introductions 00:18
Why They Met at the 2016 Scrum Gathering 01:00
Agile Education Compass 01:39
The Group's Intent 2:05
The Compass Walkthrough 04:00
Spreading the Word: 07:05
Their Mission 07:20
Discovering where you want to go 8:58
How it impacts Educators 09:15
Living Through the Challenge of Changing Education 10:10
How to Get Started 11:00
How Student's Respond 11:30
Extending the Learning Beyond School 12:00
Nurturing the Love of Lifelong Learning 12:50
What brought them together 13:50
Where to learn more 14:22
The Agile Education Compass 14:44
To Learn More: http://www.agileineducation.org
How Do I Become A Really Good Scrum Master?
In Episode 3 of The Agilistocrats, Dhaval Panchal, Richard Cheng and Dave Prior discuss how you can go from being a good Scrum Master to a great Scrum Master.