The flip side of mastering the presentation of awards
is having to accept an award. Being gracious and kind about an award is important. We often are accepting an award on behalf of a team of people. We also need to show the presenters that they chose well.
When you receive an award, you may be invited to say a few words. You should never miss an opportunity to speak. What is appropriate?
Start by showing gratitude to one or two people. This is no time to make a laundry list, trying to not miss one person. You should recognize the organization that is presenting you with the award.
Be sincere as you show your appreciation for the award. Explain what the award represents to you and your team. It would be appropriate to use an anecdote to support your feelings.
As you remain modest and dignified, share your next plan.
Receiving an award is an honour and a duty that we should not take lightly. With thoughtfulness, you will represent all that is best about your project.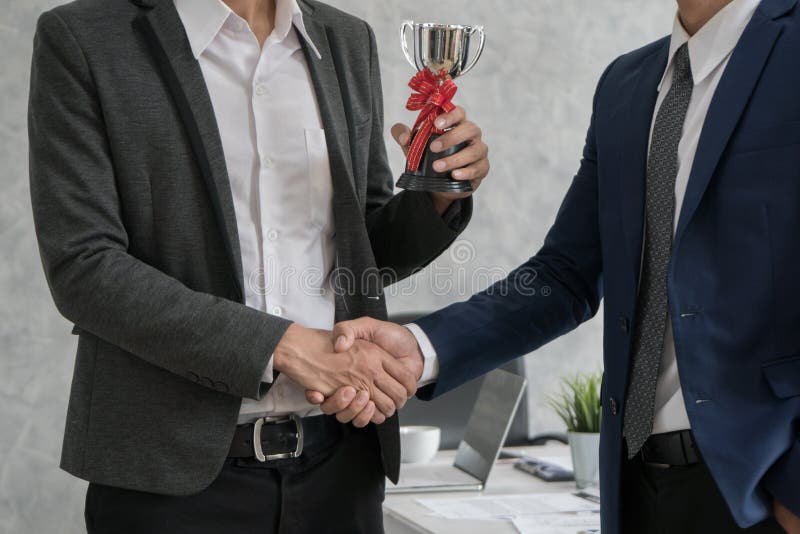 Every success on your project is an opportunity to present an award. The ritual of award presentation fills your team members and stakeholders with pleasure and awe. Here are some tips to make this a tremendous project event.
Start off by mentioning the occasion represented and commemorated by the award. Share the purpose behind the award. Make sure you put emphasis on the appreciation you and the project feel towards the contribution. You should then pay tribute to the award recipient. Keep this presentation brief, no more than three minutes.
The award object should be proudly displayed or hand held so that your whole audience can see it. Unless meant as a surprise, you should brief the recipient beforehand. When you call up the recipient, make sure to hold the award in the hand closest to the person. Offer the award and, if appropriate, invite the recipient to say a few words.
The award presentation event can be done and over in about five minutes. It's a great way to start a meeting or session. Make up some serious and not-so-serious award opportunities for your project team. It will boost morale and create excitement! What kind of awards have you presented on your projects?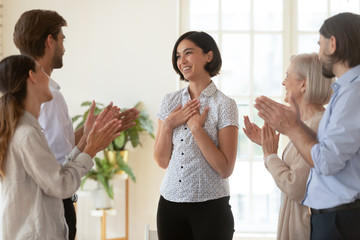 One of the most important roles as project managers is helping people on the project feel appreciated. When you lift people up, you give them self-esteem and self-confidence. This, in turn, boosts morale and motivation. So how do we go about praising people?
First of all, be specific. Don't say "good job!" That's not praise, that's whitewashing. Point out the exact event or step and impress upon the person what a difference it made it in your life. You can describe one or two attributes to which you and everyone else can relate.
Finally, express the debt you owe the person, even it's only one of gratitude. Then see the person's smile and beaming eyes. You get so much more out of praising someone that what you put in. Who have you praised lately?
While we are more familiar with making a toast at a wedding, it is appropriate to master the art of good cheers for your project.
Toasts are usually meant to celebrate a person or an event. Why not toast your project or team member as an icebreaker?
Toasts are fairly straightforward with few rules:
Make a reference to the occasion or person you are recognizing
Offer a thought or perspective
Offer best wishes
Be sincere and keep it short, no more than five minutes. Toasts do not need alcoholic beverages; a glass of water will do just fine as you holler Sláinte!
Sometimes we have to mix seriousness with fun. Toasts provide you with a great way to deliver that combination. Make sure to keep the technique of toasts in your project management toolbox.
It's not unusual to invite someone who champions your project at a meeting or event, such as a kickoff meeting. These champions enjoy the opportunity to impress their vision and expectations to the project team and its stakeholders.
You should welcome these opportunities as they are usually few and far between. All you need to do now is to prepare an introduction of this project champion. Introductions, like any other speaking opportunity, deserve to be appropriately prepared to be effective.
You first need to recognize the dual role of the introduction. It tells your audience who is speaking and why the person is speaking.
When you present the person, you want to make sure to provide significant accomplishments that justify the audience's attention. Having said that, you can pique the audience's attention with unusual hobbies. Use it if you think it fits with the presenter's topic. For example, you can mention a COO's bee farming by showing the parallel with managing project team members.
You should reveal an incident, involving the presenter, that reveals her qualities. Again, the idea is to show how the presenter's handling of the event fits with the topic and audience.
Your role is to create a relationship between the speaker and the audience. That means you should not dwell on yourself and you should be brief. Make sure to properly welcome the presenter using applauses, if suitable. Greet the presenter with a handshake. (If it's cold and flu season, a fist bump is a great alternative.) When the speech is done, you should thank the presenter on behalf of the audience. Take time to point out something you found memorable in the presentation.
Your introduction will set up the presenter and the audience for a great event. Don't underestimate its importance. After all, we need all the help to influence stakeholders positively.