Situation: You love obscure facts about Project Management.
Oddly enough, we get asked this a lot. However there aren't a lot of good numbers to go by. PMI estimates that there 16.5 million Project Managers in the world. Both PMI and Gantthead have relationships with a bit more than 600K each, with roughly a 13% overlap. 66.8% of PMI members are based in North America. 53.9% of gantthead members are based in North America. So that implies that there may be 8.7M-11M Project Managers in North America.
Of course, these percentages shrink every year as the industry (and everything else in the world) becomes more global - but that's our "guesstimate".
Situation: You feel like there's something wrong with the way you hire.
Two weeks ago, at the PMI research conference,
Dr. Joana Geraldi, Senior Research Fellow at Cranfield School of Management, International Centre for Programme Management gave a presentation entitled Finding the Right Person for the Job: Rethinking Work-Worker Fit in PPM. The presentation was based on a research paper she co-authored with Harvey Maylor, Sergio Pellegrinelli and Scot Colquhoun. We recently asked her a few questions about how we can put her findings into action. The answers to the questions below are her personal opinions, but closely tied to the research findings. Her perspectives, both here and in the research paper are pretty thought-provoking.
Q. During your presentation you discussed the problems with the way that "fit" is judged. (a worker's fit with a work profile, or work fit to a worker's profile) Could you briefly discuss how that fit is currently determined and the problems with that approach?

A. Current most common approaches to achieve fit between work and worker are:
Work-oriented (define the work and based on that, define what the worker

would need to do, one of the main problems with this one is that it assumes

that one can define all activities that are to be undertaken be the

employee, what we know is not possible in project/programme context,

moreover, the bridge between the specific tasks and competences is missing)



Worker-oriented (focus on the worker and then define what would be the job

that would fit personal competences. This is interesting, and still much

used and powerful, for example, the manager would explore what their

employees can do well and make sure he/she explores their talents. The

problem here is that it can produce descriptions of competence that are too

general or abstract.



Worker-Work fit (contingency): here we look at the job characteristics and

at people's competence. This is a more elaborated concept, and of much use,

the problem is that it takes the job and person as static.

But in general, all the three approaches are set within a rationalist frame. In relation to project and program management, a number of implicit assumptions may be called into question:

Objectivity: it is possible to define and measure work, worker, fit and

performance objectively;



Independence of work and worker: there are no mutual influences or

dependencies between the work and the worker;



Causality and Fit: there is a best fit between work and worker and this will

lead to higher performance;



Focus on static nature of the relationship work-worker: the fit is measured

at a point in time.
Q. Hiring managers and PM practitioners seem to be unaware of these issues.
Why do you think that is?
A. It is difficult to say, but my guess is that the current approaches are
more accessible, widely known among HR practitioners. There are plenty of
people trained to assess people through these well known competence-based
models. This makes life easier. We may also be tempted by the rationality
and objectivity that these models promise.
Q. You talked a bit about a more holistic approach to hiring that doesn't
create such a strong separation between the work and the worker. Could you
describe this approach? Do you have any tips for someone who would like to
put this into practice?
A. First the theory: Building on Sandberg (2001) and Partington et al (2005) we
look at worker and work as inseparable. An individual's competence cannot
be reduced to objective lists of activities, but is constituted by the
subjective meaning that work takes on for workers in their lived experience
of it. Our task is to understand what individual workers conceive of as
work and, through the elicitation of examples, how they conceive of it.
More specifically, Partington proposes four conceptual levels:
Focus on the delivery of project/programme




Looks also at the impact of the project/programme in the organisation




Preoccupation with high level outcomes of the project/programme




Explores the development of organisational capabilities beyond the

project/programme
That is interesting, but how do you put it into practice? As a first step, Sergio
Pellegrinelli and colleagues typically run assessments with project and programme
managers and identify which of the four conceptual levels above they fit into. This helps the assessors
identify high potential people in their firm and also make sure they are
nurtured appropriately.
The next question though is how to identify which projects or programs require candidates to be at the various conceptual
. One way to map a project or program to a level is to judge it's complexity
. One model to measure this complexity is MODeST
(Maylor et al, 2008). This model looks at Mission, Organization, Stakeholders, and Team attributes to help judge complexity.
There is still a need to explore the relationship between complexity and
conceptual levels, these could be explored by studies, such as:
A significant number of managers, working on the same project/ program,

should be interviewed to allow some assessment of convergence, either across

the group, or a within conceptual level. The nature of convergence and

divergence would yield insights into the subjective nature of the work and

its complexity.
A number of instances (projects/ programs) should be examined to explore

the existence or otherwise of trends in assessing complexity based on

conceptual level. In particular, it would be interesting to discover

whether on some projects and programs all parties perceived approximately

the same degree and type of complexity, while on others it varied according

to conceptual level.


A number of projects/ programs should be tracked over time to explore if

and how perceived complexity and conceptual level changes over the life of a

project or program. It would be also interesting to understand the dynamics

of the worker-work relationship and if and how project and program managers

enact their work and transform the complexity of their project. What is the

extent of possible agency? Does this relate to the existing or acquired

(higher) conceptual level?




Situation: You occasionally wonder whether we're moving forward as a profession.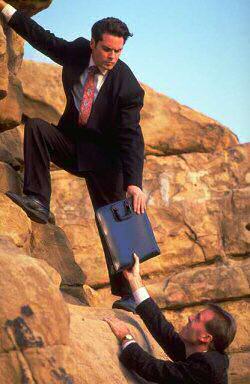 PMI's mission, roughly speaking, is to have business leaders view project management as essential for businessresults. Obviously, the best way to do that is to show increasing success over time. That's why I found this particular PMI research report interesting. Are we getting any better? Comparing project management in the years 2000 and 2008 was a report produced by Erling S. Andersen and present two weeks ago at the PMI Research conference. Mr. Andersen was kind enough to answer a few questions for us recently about the research he conducted.
Q. Your research was conducted using the X Model, could you tell us a bit about how that works? (both at the micro and macro level)

The intention of the X Model is to give a comprehensive view of the present situation of an enterprise or an organization. It is extremely valuable for a manager to get such a condensed picture of how the organization is performing and that it is presented in a way that makes it possible to discuss why the situation is as depicted. The X Model was originally development in the 1970-ies with firms in mind. Many years later I started to apply it to projects. The strength of the X Model is that the present situation is presented on one page of paper and that it allows for causal analysis. It is easy to discuss why the results are as we see them. The results must depend on the way we conduct our work processes, and the work processes are affected by personal and factual premises.

I have quite recently written an article which presents the ideas of the X Model in more detail: Erling S. Andersen (2010): Describing and assessing projects: The X model. International Journal of Managing Projects in Business,3 (3), pp. 369-386.

At Norwegian School of Management BI we have given Masters-level courses in project management since the middle of the 1990-ies. I have taught our students, who are experienced practitioners from industry and government, the X Model. Many have used it in their Master theses to assess projects they have been writing about. The students have used it on a micro level (to assess their real world projects) to get a better understanding of their projects and discuss improvements. After a while I thought might be interesting to collect all the X Models that the students were making. Then much later the idea appeared that it would be interesting to compare the situation of 2000 and 2008 by looking at all the models from these two years. I then did what we could call a study on the macro level to see if it was possible to identify significant changes over time. And as you see from my paper we are getting better.



Q. You concluded that some areas of project management have shown improvement, saying specifically that team members are more knowledgeable about project work, project objectives are more clearly expressed, project organization is more appropriate, most work processes are improved, team members experience project work as rewarding and are more motivated for future projects, and the results of the project are more balanced. Why do you think this is true? Do you credit PMI? Better Training? Stiffer performance requirements from employers?

My research does not look into why we have become better. I would think that many factors contribute to progress. Project managers and team members are better educated and have more extensive experiences compared to ten years ago. Of course the professional associations like PMI deserve credits. They have argued strongly for professionalization, use of standards and certifications.


Q. You also talk about areas for improvement, specifically, in achieving the project mission and goals or keeping to the project schedule and budget. Why do you think this is the case?

It is of great importance at the start of the project to discuss what we mean by project success. Our research shows that there is too little interaction between the project owner (the sponsor) and the project manager. Often, the purpose of the project is not clearly stated. The project manager tends to focus solely on the project constraints (time, cost, and quality), but the project owner is focused on value creation. Better and close cooperation between the two parties always improves value creation.


Q. Do you know of other recent and important research in this area? Do you know of other studies being conducted now that might be of interest?

I have been fortunate to have taken part in two very interesting research projects: "Value of Project Management", chaired by professor Janice Thomas, Athabasca University (the results are presented as a special issue of Project Management Journal, 2009, issue 1) and the UK-initiated project "Rethinking Project Management" (the results are presented as a special issue of International Journal of Project Management, 2006, issue 8). Many international researchers took part in both projects and they have affected the way we think about project management.

Situation: You Like to Get Your Head Around the "Big Questions" in Project Management.
Hey PM Thought Leaders >> Take a look at the list below and let me know if one of the topics could really help you tackle the challenges you face every day.
Earlier this week I attended PMI's Research & Education Conference 2010. The event has asubtitle - "Defining the Future of Project Management". While I'm not sure that anyone can "Define the future" of anything, I think there were some interesting presentations. I plan to interview some of the researchers, but I was hoping to get some feedback (either here as a comment or via email, whichever is easier) on what you might find interesting. During each interview I'll be attempting to identify who the research findings might be interesting to and what practical actions you can take based on their findings.
PMI presented awards for work in the following areas:
The 2010 Project Management Journal® Paper of the Year Award
PMI's 2010 Project Management Journal® Paper of the Year Award was presented to Terence J. Cooke-Davies, Ph.D., Lynn H. Crawford, DBA, MTCP, and Thomas G. Lechler, Ph.D. for their article Project Management Systems: Moving Project Management From an Operational to a Strategic Discipline. The article was published in the March 2009 issue of Project Management Journal.

2010 Student Poster Award
Jefferson Leandro Anselmo, Ph.D., M.Sc., PMP® is the winner of PMI's 2010 Student Poster Award for his submission, Project Management In Project-Based Businesses: An Integrated Proposal for the Management of the Operational, Organizational and Strategic Dimensions.

Topics presented at the conference
Applications of positive psychology to teaching project management and leadership

Supporting interaction in the classroom – Using personal response units

The use of Skype and other communications technologies to deliver international project management education.

Online programme delivery – A case study

A New Route to Professional Development: Overcoming the Immunity to Change

Inter- and Intra- Project Knowledge Transfer – Analysis of Knowledge Transfer Techniques

A Proposed Construction Design Change Management Tool to Aid in Assessing the Impact of Design Changes

Predicting Team Performance based on Past Individual Achievements using Artificial Neural Networks

Change Management in Project- based Organizations - a case study of a construction company

Relevance of Project Marketing Activities to Project Management Practitioners

Interactions-based Risk Network Simulation for Project Risk Prioritization

Identifying Forces Driving PMO Changes

Attitude-Based Strategic Negotiation for Conflict Management in Construction Projects

Aim Fire Aim - Planning Styles in Dynamic Environments

Managing projects practitioner development – a successful university- industry partnership

The PMO Maturity Cube, a Project Management Office Maturity Model

Social and Behavioral Influences on Project Team Process

Managing Complex Public Projects: Timing Norms, Temporal Misfits, and the Role of Project Management

Building a Positive Classroom in Graduate PM Education

Exploring PMOs through Community of Practice Theory

Cultural Differences in Projects

Early Warning Signs in Complex Projects

Project Management Education, Training, Working & Learning: a longitudinal study into the experiences of British Army officers in UK defence related projects

Strategic priorities and PMO functions in project-based firms

A Conceptual Model of the Emotional Valuation of a Project

Classifying Improvisation: Some comments on Managing chaotic Evolution

Project Management in Academia: Friend or Foe? An Exploratory Study of the Social Sciences and Humanities

Project portfolio management (PPM) – strategic and operational agility through projects

Change Management & Project Management

The relation between organizational & professional commitment in the case of project workers: implications for the project management profession

Project Portfolio Management: Comparing Practive with Theory

World Bank projects' critical success factors and their interactions: an empirical investigation

25 Years of Stakeholder Theory in Project Management Literature (1984-2009)

Project Value Mindset of Project Managers

Interdependencies among projects in Project Portfolio Management: A content analysis of techniques

Are we getting any better? Comparing project management in the years 2000 and 2008

I Can't Get No... Satisfaction:Moving on From the Dominant Approaches to Managing Quality in Complex Programs

Human Resources in Project- Based Firms: Moving In, Moving Out, Moving On

Managing Projects in Context: Responding to Strategic Drivers

Role of project maturity and organizational culture on project success

Problem-based learning in advanced project management education

Using Performance Evaluations to Raise Individual Accountability on Project Teams

Project Management Maturity of Croatian Companies: Is There Any?

Why Information Systems Development Projects are always Late

Using Web 2.0 in large cohort project management education: panacea or empty promise

Finding the Right Person for the Job: Rethinking Work-Worker Fit in PPM

Dynamic capability: Understanding the relationship between project portfolio management capability and competitive advantage

The program manager's leadership competence and program success: A qualitative study

Simulation as a Teaching Tool for Quantitative Risk Analysis

Improving project team performance through team learning

Key drivers to the effectiveness in managing multiple projects: An empirical investigation in an IT organization of a world largest financial institution

Program Benefits Management in Practice: an exploratory investigation

A case for project management education as a catalyst for sustainable development in developing countries

Project Management in Small to Medium-sized Enterprises: tailoring the practices to the size of company

Organizational Control and Project Performance

The Impact of a Project Benefit Methodology on the Project Management Discipline

Structuring Risk into Projects

Influences of Environment and Leadership on Team Performance in Complex Projects

Contribution of Individual Project Participant Competencies to Project Success

Integrating Performance Measures to Exert Effective Leadership in Managing Project Portfolios

The Accuracy of Hybrid Estimating Approaches?—Case Study of an Australian State Road & Traffic Authority

Implementing Organizational Change Using Action Research in Two Asian Cultures

Demographic Determinants of Project Success Behaviors

The Time Dependence of CPI and SPI for Software Projects

The Role of Project Collaboration Quality and Knowledge Integration Capability in Multi-Partner Projects

Project Champions in the Context of Socio-Political Issues of Project Management

Project Portfolios in Dynamic Environments: Sources of Uncertainty and Sensing Mechanisms

Re-Thinking Project Management Maturity: Perspectives Gained From Explorations Of Fit And Value

Knowledge entrainment and project management: Understanding project management as knowledge integration under time pressure

Factors that influence and are influenced by change projects

Balancing value-for-money and operational performance of Public- Private Partnerships projects

Relating sustainable development and project management: A conceptual model

Knowledge Production and the Success of Innovation Projects

Understanding and Managing Conflict in a Project Environment

Dimensions for Project Success Enabled by the Sponsor / PM Relationship

How does modern project work really affect our societies, our organisations, and us a individuals?

Knowledge Management Practices in IT Projects: An Exploratory Assessment of the State of Affairs in the Caribbean

Integration of 3-D Web and Semantic Web Technologies: A New Structure for Communications Plans

The influence of project front end management and project complexity on project success - A contingency approach in project management research

Creating knowledge of end-users requirements

Climate of Innovation in Government Communities of Practice: Focusing on Knowledge Gains and Relationships

An Empirical Identification of Project Management Toolsets and a Comparison among Project Types

The influence of the gap between project manager and executives on project results

It's Not My Fault!: Exploring the role of the client in program performance
Anything jump out as just what you were looking for? Let me know and I'll drill down deeper for you.
Situation: You want your PPM efforts to improve resource utilization.

CA, the folks that bring you CA Clarity PPM, recently sponsored an IDC Survey - Organizations Optimize
Resources with PPM.  We were lucky enough to ask IDC researcher, Randy Perry, a few questions about the survey and what it really means to you.  By asking these questions, I tried to draw out some areas that you might want to focus on when conducting these types of efforts.
 


Q:  At the beginning of the report you offer a summary of benefits that participating companies experienced.


•    Number of projects managed increased 35%.




•    Cost per project was reduced 37%.  




•    Redundant projects dropped 78%.




•    IT staff productivity increased by 14%.




•    Project failure rate dropped 59%.




•    The total annual benefit per 100 users is $83,500.




•    Payback occurred in 7.4 months.




Which of these mattered most to these companies? (perhaps a top 3?) and why?   Did the most important results line up with the way they sold the efforts in the first place?



Randy Perry, IDC:
The first two key benefits experienced by companies were reduction in number of redundant projects and reduction in the project failure rate. Roughly 40 percent of total savings came from reducing failed or redundant projects. Prior to the implementation of PPM software, companies, on average, had nearly 40 percent of their projects fail or deemed redundant.  The primary cause of failed and redundant projects occurs in the planning stage due to issues with governance, IT demand, prioritization and selection.  Most of the projects that failed should never have been initiated in the first place because they were not aligned with business goals or IT did not have a clear set of goals at the outset.  Redundant projects would never have been initiated had all stakeholders had visibility into project prioritization.

The third benefit most appreciated by companies in the study was the reduction in per-project costs.  Per-project costs were reduced by 37 percent, which was primarily a result of better project and resource management. Better management allowed for a reduction in the time it takes to complete projects and also led to optimization of project staffing.  Twelve of thirteen companies reported a reduction in project time by 13-63 percent (an average of 35 percent).  Most companies used this time savings to complete projects that had been put off due to lack of resources.






Q: You talk about organization measuring itself in the following areas:




•    IT governance




•    IT demand assessment




•    IT demand prioritization and selection




•    Business relationship management




•    Project management




•    Resource management




If you were to come up with a forced ranking, how would you rank these in terms of their importance to an organization's productivity?  In terms of organizational effectiveness? (and Why?)



Randy Perry, IDC:
These areas are not entirely distinct and benefits of one tend to spill over into the others. For instance, IT governance is critical to an organization; it drives most of the other benefits. Prior to deploying PPM, 54 percent of the companies in the study had no IT governance program. In other words, their IT departments operated independent of the businesses they were supporting (budget setting notwithstanding). The business had no way of translating its goals to the IT department, no way of measuring the success of projects or IT, and, therefore, no real control of IT resources. Implementing IT governance establishes the link between business goals and IT budgets: it measures IT projects by their contribution to businesses' strategic initiatives and ties changes in the business to changes in IT priorities. IT governance ensures that every project undertaken by IT has been approved by a board of stakeholders. Project goals are set and project successes can be measured. No one can later say: "Why are you doing that?" 

Resource management is the second largest benefit driver, accounting for 16 percent of total savings. Like IT governance, this is a planning area. PPM provides a way of looking at all the project-related requirements and then prioritizing people and other resources. 

Project management, perhaps the third most important driver, contains the knowledge loop that enables process improvement and optimization. Each project becomes a knowledge resource, enabling each successive project to be more efficient.  Over time, projects are completed quicker with exactly the resources needed – no waste. 






Q: Clearly tools, coupled with process, have an impact in the following areas:




•    IT governance.




•    IT demand assessment.




•    IT demand prioritization and selection




•    Business relationship management




•    Project management.




•    Resource management.




Are there particular tool functions that are important in each of these areas?  Are there tools (specific tools or classes of them) that you know of that are particularly effective in any of these areas? 



Randy Perry, IDC:
We really do not have research specific to a single function or tool. We covered a wide variety of tools – looking at seven different vendors. We found that one third of the participants used tools from multiple vendors.






Q: At the end of your report, you categorize the study participants by industry, noting their maturity before and after PPM efforts.  Which industries benefited most (and least) from PPM efforts?   Why do you think that is?



Randy Perry, IDC:
The top three companies that saw the greatest benefits were financial institutions; the top two of those three were also among the most mature, so it's all related. Financial organizations tend to have a greater reliance on their IT infrastructures than organizations in other industries do and, as such, their IT operations are more mature. 
Technology merely enables processes and policies. Companies at maturity level three (those with standardized processes, procedures and PPM tools) experienced 50 percent higher benefits than organizations at maturity level two (those with automated, but not standardized, processes and procedures) and 58 percent higher benefits than companies falling between ad hoc and automated, but not standardized processes and procedures.




On a related note,  IDC's

PPM Maturity Value Calculator

, which was developed from the same IDC research. The calculator provides a personalized PPM maturity and benefits assessment.  After using it, individuals can request a detailed action plan by email. The calculator is meant to give an overview of the benefits and next steps needed to build a PPM business case.