Gartner made a significant prediction at the virtual symposium for CIOs and IT leaders. By 2023, there will be at least four times as many active citizen developers at large businesses as professional developers.
For those who don't know, a citizen developer creates software without receiving formal training in software development by leveraging no-code platforms and analytics tools to automate processes for themselves and their teams.
What is causing this shift in application development?
Essentially citizen developers are business users whose productivity is hampered by laborious, disjointed processes; as a result, they are more than prepared to improve routine operations through no-code development. They can create software to automate manual operations. They can design optimized workflows (automation sequences) by selecting from a list of pre-configured stages and placing them in a logical flow using the drag and drop feature of no-code platforms.
In a survey done by Forrester, 64% of business and tech leaders indicated that process automation is crucial to corporate strategy, supporting digital transformation and customer experience.
From a single no-code platform, citizen developers can build and customize administrative, data-tracking, and reporting tools. Typically, there are separate apps spread across many departments and go unnoticed by IT teams for each of these characteristics. IT teams may quickly monitor and maintain apps by using a single no-code platform to configure all of the applications.
Because of these reasons, a majority of businesses today rely on citizen developers to produce enterprise business software or applications specific to marketing, sales, HR, or other critical functions. These developers typically report to the IT department, and skilled/professional developers supervise their work to ensure the final product/outcome matches the standards.
Moreover, organizations are constantly pushing themselves to build operational and strategic agility for:
• Democratizing application development.
• Overcoming the lack of IT talent.
• Managing modest adjustments well.
• Implementing quick innovation cycles.
• Evaluating the risk and developing mitigation techniques.
• Encouraging citizen developers to creatively use technology and build custom applications with no-code platforms.
• Managing business turbulence brought on by changes in market dynamics, pressure from competitors, and COVID-19-like natural disasters
On the other hand, hyperautomation is on the rise, helping firms make it possible for non-programmers to create complex software. Most of the time, employers do not require prior software development training, although there are specific qualifications for this position.
Things to keep in mind while choosing non-programmers
• Business users who are or have been involved in time-consuming manual processes are known as citizen developers. Therefore, a person with practical experience working with paper-based processes and knowledge of the associated pain spots is the ideal candidate for citizen development.
• Although no technical knowledge is necessary to use no-code platforms, users must have a strong understanding of business logic to construct apps visually. As a result, this may be the second factor to consider when selecting your citizen developer.
• Because citizen development is carried out through a governance model and is not autocratic, an ideal candidate should also have a collaborative approach.
• Citizen developers are much more than just lone contributors. No-code development is not their primary responsibility; they must balance various tasks. Time management is thus yet another trait of a successful citizen developer.
• Business technologists or skilled, full-time developers or coders brought into departments like operations, finance, accounting, or marketing are ideal candidates for citizen development.
Citizen Developers are breaking stereotypes
To automate business processes and data integration, Gartner firmly believes that businesses must collaborate with experts outside of IT. This essentially ends reliance on software development teams.
Additionally, it stated that businesses should reject the idea that the work of citizen developers is easy and non-critical. Most citizen developers actively work on developing new features, user interfaces, and algorithms.
Hyperautomation has played a key role in the success of citizen developers
Gartner defines hyper-automation as a business-driven, focused approach that businesses need to identify, enhance, and automate their enterprise processes rapidly. Because hyperautomation has so much potential and entails many possibilities, relying solely on traditional coders and IT teams will never produce the desired results. Enterprises have quickly realized this and have been proactively training more employees to become citizen developers.
Organizations are no more holding themselves back from realizing enterprise-wide process management and workflow automation. As most of them are adopting a hybrid workforce model, it becomes imperative to encourage non-technical employees toward citizen development and reduce the burden of IT teams already stressed out with simple troubleshooting.
Enterprises are actively investing in citizen developers to democratize and pace up innovation – enabling UI/UX designers, business analysts, and marketers to build priority-specific applications without writing a single line of code. They are trying to nurture code-agnostic development teams with the help of no-code platforms.
Just like the future of coding is no coding, the end of automation is no-code automation. Organizations are stretching themselves to achieve end-to-end automation while rooting for a hybrid workforce model (where the availability of IT resources will always be a matter of concern). Citizen development is evolving and providing a fantastic opportunity for business and IT leaders to fulfil their primary strategic goals, the most significant of which is enterprise-wide automation.
The rise of citizen developers aligns with the rise of digital-first organizations
Organizations are going full throttle in digitization by investing heavily in low-code and no-code tools to build various applications. They are building teams, for example, a team of citizen developers, that rely on agile methods to integrate critical operating units with the IT organization, augmented by a set of new digital roles that are helping in value creation. The idea behind establishing such teams is to promote innovation and value generation by focusing on:
• Using analytics to assess operations and performance before taking action based on the findings.
• Using agile principles to test and deploy new hardware and software.
• Building and delivering new digital processes and solutions for field operations along with back-office processes (that can be standardized and scaled across businesses).
There are a lot of examples and trends that indicate the growing popularity of citizen developers. Can they outnumber traditional developers? It doesn't seem a remote possibility anymore and is as accurate as it can get.
In any organization, successful project completion relies on overcoming certain constraints. Limited budget, scope limitations, and time pressure are just some of the main challenges that can impact the feasibility of the project.
The greater the scope or speed of a project is, the more likely it is to overlook some details. It is especially true when using manual processes and outdated tools.
PMI's reports indicate that poor project performance can waste up to 11.4 percent of the investment, increasing the likelihood of project failure.

The Project Management Triangle
The Project Management Triangle, also known as The Triple Constraints, is a well-known concept that every project manager is familiar with (and frequently dreads).
The Triple Constraints of Project Management

Time: When must the output be delivered?

Scope: What exactly is the expected outcome?

Cost: How much money is available to achieve this result?
The triangle's three sides are interconnected, so changing one element will affect the others. For instance, expanding the project scope may cost more money and time, while shortening the project's timeline may save expenses but increase its scope.
The triple constraint is a critical part of a successful project, but it is not the only factor. Many other factors contribute to a successful project, and the Triple Constraint is just one piece of the puzzle.
That is why some project management experts have added three more constraints to the model to better reflect the most critical areas of a project—quality, risk, and benefit.
IT Skills Gap
The COVID-19 pandemic has resulted in many businesses needing to digitize their operations rapidly. It has created a demand for more applications to address the changing needs of both consumers and employees.
Yet a shortage of highly trained software specialists and an overworked IT department can create significant challenges for business.
We have also seen the impact of the pandemic ripple through the job market. The ongoing skills shortage among developers continues to pressure businesses to cater to these sudden changes.
Research by Forrester stated that by 2024, the U.S. alone will have a deficit of over 500,000 software developers. Globally, the number is significantly higher.
On top of that, according to Gartner, IT executives see the talent shortage as the most significant adoption barrier to 64% of emerging technologies.
Enter Citizen Development.
Today, citizen development plays an important role in the enterprise software landscape as more organizations look to empower non-technical users to build business applications using no-code or low-code platforms.
Research by Gartner stated that by 2024, citizen developers will build 80% of all technological products.
With the citizen development approach, project managers now have a larger resource pool as non-technical employees turn into citizen developers to help build the enterprise software solution without any programming skills. It will also help to reduce the dependency on highly-skilled IT professionals.
Citizen developers will help not only to build solutions but to ensure the delivery and adoption of the applications as well. It is because citizen development empowers a more flexible and results-focused way of working rather than being bogged down by requirements documentation.
This allows things to move faster and at a lower cost, so project managers can focus on delivering results rather than being held up by the IT backlog.
Furthermore, project managers are in a great position to leverage Citizen Development to help their organizations succeed. They have a deep understanding of the three project constraints and can use this knowledge to time citizen development initiatives ideally. Additionally, their experience and expertise can be instrumental in helping the organization navigate the citizen development journey to success.
The Game-Changer
Project managers are crucial to driving organizational change. They are responsible for ensuring that projects are aligned with the organization's strategic goals to deliver top-quality results within the approved budget and timeline.
However, some changes are inevitable as the projects change and evolve constantly. The key is to identify and understand every project's constraints and how they interact with one another. This allows them to course-correct when necessary to keep the project on track.
As a head start, project managers can download this simple tool — Project Management - Citizen Development Cheat Sheet to evaluate if your project is a good fit to get started with Citizen Development. This will also give you insights on what are the key considerations that a project manager should be looking for to bring in Citizen Development within their organization in a successful way.
Ready to jump into the world of citizen development?
I look forward to sharing my next article with you, in which I will cover how to implement and deliver a successful citizen development project.
Digital acceleration is a buzzword today because of the new technological trends such as cloud computing, mobile phones and social media. There is an increased focus on delivering customer experiences and business agility through the use of digital tools and platforms. Users are encouraged to become citizen developers who can deliver products faster than traditional programming models. This can be done by using no-code technology and platforms that enable business users to build custom apps without requiring any coding knowledge.
But how can organizations create a conducive environment for citizen development?
This article explores the key steps organizations can take to become citizen development-friendly.
Step 1 - Demarcating the key roles to cover the entire gamut of citizen development
Citizen development requires coverage on a strategic level and tactical and operational levels. Fusion teams should be created in order to support enterprise innovations. The roles and responsibilities of citizen developers and technical people need to be demarcated.
i). Strategic Roles
These are citizen development champions having the experience and skill set of CxOs. This role requires someone who understands how citizens interact with technology. They need to know the requirements of citizen development and understand the challenges involved in developing software solutions. Appointing such people may require effort and time, but the benefits are great.
ii). Tactical Roles
Indeed, no-code platforms don't require any coding skills. However, a certain section of your business users' and programmers' teams should have the technical and tactical understanding of no-code platforms, and know-how is still required. This can help you nurture individuals who can oversee applications built by citizen developers. To successfully carry out integrations with third-party solutions, your technical staff should understand the nitty-gritty of no-code applications. These individuals can also provide relevant guidance to programmers and citizen developers.
iii). Operational Roles
To some extent, operational roles and responsibilities are primarily held by citizen developers and also by no-code masters. Depending on your organization's functioning (centralized or decentralized), you may put citizen developers in one or more departments or business units.
When defining the scope of work for citizen developers, you will need to decide whether you will adopt the no-code approach to build departmental workflow apps or customer-facing apps. The primary role of citizen developers (business users) is not to build applications, and therefore, it's essential to designate the minimum and the maximum number of citizen development hours.
Step 2 - Selecting business users who are the best fit for citizen development
Citizen development is an important part of modern software development because many manual tasks that used to be performed manually have now been automated. Examples include data entry into databases and the creation of spreadsheets. Therefore, people who excel as citizen developers are often sought after by businesses looking to automate some of their mundane back-office operations.
Citizen development doesn't require any technical knowledge but requires some basic business skills. For example, if you are a citizen developer and want to create an application, you first need to know how to use visual tools (like drag & drop) and then learn what type of data your app collects. You also need to understand how to handle errors and validate user input. In addition, there may be other prerequisites depending on the platform you choose.
An ideal candidate must be an independent contributor without being a lone wolf. Citizen developers do not act independently but participate with others within the group to develop solutions while juggling different roles. Time management skills are therefore essential when working with citizen development groups.
Step 3 - Choosing the right no-code platform for citizen developers
You can follow these steps to choose the best possible no-code platform for your innovation goals.
i). Determine your focus goals
You can't go overboard with no-code application development, and it is essential to have some focus goals. In this regard, choosing the right project is paramount.
For example-
You may pick a workflow application you struggle with due to IT resource constraints.
You can ask your team to identify paper-based business processes that require immediate automation.
Some of your focus goals can be:
Respond to business needs faster
Innovate and get ahead of competitors
Reduce costs and syntax errors
Speed-up reporting/feedback
Speed up data collection
Better utilization of IT resources
ii). Create a list of functionalities you want in your no-code application
Different no-code platforms support different sets of functionalities. Of course, you should select the one which covers the maximum ground. Here is a general list of functionalities that no-code platforms support, and you can map this list with your requirements.
Reports
In-app communication
Form Builder
Third-Party Integration
Dashboards
Audit Trials
Device Responsive
Role-Based Control
Customizable tool
Agile Process Management
Push Notifications
iii). Create a list of integrations you want your application to support
Some applications exist within an ecosystem of other apps, systems, and devices and therefore require integration capabilities. For example, the application may require access to user contacts and the company's financial data. You can refer to the below list of integrations. Based on your selection, you can zero in on a no-code platform.
API
REST API
Online databases
Excel
Web Services
CRM database
ERP database
E-Commerce
SQL
Google Analytics
iv). Address critical questions
When choosing from a list of prominent vendors, it all comes down to their value proposition. These questions will bring you more clarity in the context of no-code platforms.
Does the platform operate in a genuinely no-code fashion, or is it essentially a low-code platform?
Is the platform cloud-based?
Can the platform keep a record of your most sensitive documents and transactions?
What level of administration and maintenance does the no-code platform provide?
Does the platform offer software development lifecycle (SDLC) controls and auditing capabilities?
How secure is the platform?
What are the initial and follow-up costs of using the platform?
Step 4 - Imparting training to citizen developers
No-code platforms are designed to simplify application development. Non-IT professionals can develop software applications without needing a background in programming. These platforms allow businesses to create custom apps quickly. However, there is still a significant learning curve for citizen developers who want to use these no-code tools. Frequent education and training need to be imparted as new features continue to enhance these platforms.
To seamlessly collaborate with IT, you need a no-code platform and a common language to communicate. Yes, citizen developers don't need to learn to code, but they need to understand the nitty-gritty of software development life cycle and agile methodologies, prototyping, wireframing, and design thinking.
Citizen developers should also be briefed on relevant data lists and connected systems. It's ideal for them to take multiple before gaining access to a no-code platform. You can ensure cross-functional learning opportunities for citizen developers in workshops, hackathons, and community events.
Conclusion
Citizen Development requires an agile approach where new technologies and skillsets are adopted quickly and iteratively. Your governance should be flexible enough to adapt as requirements change. The above-mentioned steps will help you streamline the humongous task of rolling out citizen development.
Have you adopted or are you planning to adopt Citizen Development within your organisation? Would you like to receive free independent (academic) feedback on how you are positioned through the Citizen Development Index tool.
At PMI, we are collaborating with Dr Noel Carroll & Ms Mary Maher at the Citizen Development Lab at the National University of Ireland, Galway and we aim to investigate how organisations have adopted citizen development and current efforts to assess its impact on digital transformation initiatives.​ We would like to get your views as the practitioners of Citizen Development (…from the trenches) on your plans or experience with Citizen Development initiatives.
By completing this simple survey, you can evaluate how Citizen Development is being utilised within your organisation and whether you are meeting its full potential at various maturity levels. Alternatively, if your organisation is considering the adoption of Citizen Development, this survey will provide you with an organisational readiness assessment for the adoption of Citizen Development. You will also be provided with some advice on how best to move forward with preparing for the adoption of Citizen Development or with the advance to the next stage of maturity.
All information will be treated confidentially and your identity will not be revealed through the data gathered. You will have an option to add your details (name and email) if you wish for us to have a follow-up call to discuss your results further.
We look forward to learning from you and hope you will find the Citizen Development Index tool useful.
---
On one hand, businesses are going full throttle on digitizing their operations, but on the other hand, IT talent shortages hamper the timely implementation of complex software. However, no-code development platforms are proving to be effective. 
No-code platforms reduce development complexity to the point where business users can create solutions without knowing programming, APIs, or how to deploy web or mobile apps. No-code solutions, which are frequently packaged as a SaaS (software as a service) or PaaS (platform as a service), simplify many complex aspects of development so that business users and IT teams can become more agile and focus on generating functionality.
According to Gartner, the market for no-code/low-code application platforms would grow by more than 30% from 2020 levels by 2022. By embracing these no-code solutions, project managers may serve the diverse and often siloed interests of both IT and business as IT project leaders and business process stakeholders.
But what are the advantages of no-code development, and how can you put them into practice in your project teams? 
The answer could be in citizen development — creating a group of non-technical team members to take up some of the tasks that IT teams can't focus on due to lack of bandwidth. 
According to Gartner, citizen developers will build 80% of all technological products by 2024, up from just 25% in 2014. This rapid spread is attributed to the COVID-19 pandemic: New business models and processes arose as organizations hurried to implement cloud services and digital initiatives to deal with a distant workforce. These occurrences coincided with the rapid adoption of agile frameworks in recent years, which place a premium on speed and shorter development cycles. Along with developer scarcity, all of this has allowed citizen developers to fix various issues.
Citizen development from an agility standpoint 
In today's organizations, there is a lot of unmet demand that central IT solution teams can't address. When citizen developers are given no-code tools, they can build solutions ten times faster than if they had to rely on programming alone. They tackle problems as they arise, creating applications that are unlikely to be quickly built by IT, given the number of projects they are already handling. Developers and architects may focus on more complicated solutions that offer real value to the business. It translates to higher overall productivity (98 percent less time spent producing operational dashboards, for example) and better business results.
Embracing no-code means adopting a philosophy that prioritizes user empowerment. However, it would help if you had a new software development life cycle that is flexible and built on agile principles to empower consumers. You also require a framework to assist citizen developers in rapidly developing applications and getting real-time feedback from stakeholders. 
Enabling agility with citizen development 
Understanding citizen development is one thing, but understanding how to scale it is another. To successfully adopt and scale citizen development, your organization needs to:
Establish a governance structure
Reimagine rules of engagement with IT departments and business users.
Reskill and upskill your workforce with agile future competencies, including digital literacy and citizen development proficiency.
Equip your workforce with the required no-code tools.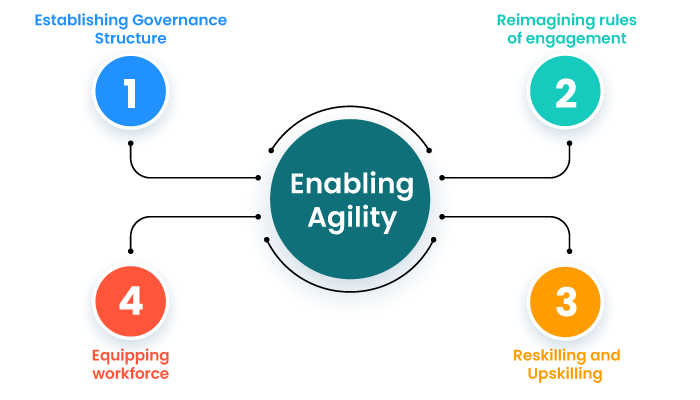 Without the aforementioned considerations, citizen development applications may cause more harm than good, causing extra work or confusion instead of solving a problem. Your citizen development practitioners need tools to design and build their applications within the context of the business and the entire organization.
Citizen development governance structure 
Although business users can easily use no-code platforms to build custom, priority-specific applications in an agile fashion, their roles and responsibilities need to be earmarked to prevent the challenge of shadow IT. This can be achieved by establishing a well-thought-out governance structure.
Your IT governance model can take a top-down approach, with a single authority overseeing your entire citizen development programme, including various projects and initiatives. Your CTO can lead this office, which can be placed within your IT department. There are other governance models as well, and organizations can choose based on the assessment of their maturity level.
The office can establish no-code development best practices and roll them out across the firm, ensuring that all teams (technical and non-technical) are on the same page. Other tasks may include the following:
Choosing the most refined no-code platform for the entire organization
Maintaining the policy and criteria for citizen development.
Bringing together and distributing resources.
Organizing citizen developer workshops, hackathons, and community activities.
Identification and prioritization of high-value no-code projects. For example, building no-code applications to automate critical workflows in a time crunch.
Updating Internal and external stakeholders on the status of several no-code projects.
Identifying the "right fit" candidate for citizen development
Someone with hands-on experience dealing with paper-based processes and understanding the associated pain points is a great candidate for citizen development. No prior coding knowledge is required to use no-code platforms, but the desired candidate must have a solid grip on business logic. 
It's important to note that citizen development is not a one-man show and is carried out through a governance paradigm. Therefore, an ideal candidate should also have a collaborative approach.
Citizen developers are much more than self-sufficient contributors. They are primarily business users; therefore, no-code development is not their primary responsibility, and they must balance numerous tasks. As a result, another quality of a productive citizen developer is time management.
Conclusion 
With the rise of citizen developers, the extent of democratization of software development is also rising, which is significantly facilitating agile application development. Although realities like shadow IT may appear frightening, having a defined set of governance principles, roles, and obligations can help make citizen development successful. As more companies adopt a hybrid workforce model, it's critical to direct non-technical staff toward citizen development rather than burden remote-based IT personnel with day-to-day troubleshooting. No-code platforms are democratizing and speeding up innovation by allowing business analysts, product designers, and marketers to act as citizen engineers.